Piccolo Spoleto Festival
21 May
– PICCOLO SPOLETO FESTIVAL Â -Â Â Scroll Below
-Â ARTicles – May: other things to do & people to see.
– Â Spoleto: click here.
- DoTheCharleston.com Tours: private, premium, personalized, satisfaction guaranteed…so you"ll come back (and we give back net proceeds to preservation…so you'll come back..and our kids' kids will learn too)
– Edible Arts Tours: Dinner and a Show, or Spirits Tour, or Dinner & Dancing: Tapas, wine, craft beer, & spirits flowing. Meet Chefs at haute cuisine restaurants; dance with top instructors; and join us as we REVIEW the Shows:
- PICCOLO SPOLETO FESTIVAL <– Tickets, details, & times, May 23 – June 8. Check back below for updates in DoTheCharleston.com ARTicles, Previews, REVIEWs, HiArtFilms, and special HiArtPromotions.
Join us (there are so many more events and showings here – you'll want to clone yourself). Below are just some of the best of the best events. Join us, mostly on their opening night performance. Then be the first to tell everyone the latest scoop; Like, Share, and add your comments on Facebook; and check back below for REVIEWs.
– Come see Dancers & Prancers; watch Painters & Poets; hear Mac Daddies & JAC Jazzies; tell Play Actors to break a leg; and let Improv Actors pull your leg…
– Come to homes & gardens with tours & teas; Artist receptions with wine & cheese; dinner & dancing at speakeasies; and after-parties with VIPs…
– Come to special venues like The Four Corners of Law (Hail, Mail, Bail, or Jail); the Holy City's church spires and temple choirs; Marion Square & Waterfront Park; City Gallery & The US Custom's House…
– Join us for Theatre:
– May 24 – June 7, "Kate & Sam Are Not Breaking Up" by What If? Productions. A new play premiering at Piccolo: Rumors about the breakup of a movie star couple disenchant their fanatic fans. One crazy kidnaps them, of course…what…no. Yes. Then an internet "friend" flames the fires of hell. (Hope for a happy ending in the Garden of Eden). What if? is harsh adult content that's laughable. Threshold Theatre. REVIEW: "You could never imagine that dreams of internet and Hollywood heroes could turn into a nightmarish, eye-popping, jaw-dropping, ear-screeching, and side-splitting comedy. Never google, never tweet, and never lie, when an "internet friend" comes over to play house. This house of cards is really shuffled up. Playwright Joel Kim Booster and director Kyle Barnette load the deck with wild cards, and then unload an arsenal on the audience.
Throwing knives can even be seen in the countless evil-eye glares. Evil so sick, it is wicked fun. The four funny fanatics are rangy actors who play off each other and build-up their characters, in more roles than one. These multiple personality posers push their acting over the edge…to their dramatic destiny. Giulia Marie Dalbec (Kate) and Michael David Wilson (Sam) are on roofies. They are drippy druggy drama-queen sex symbols (yes Sam props-up his boobs). Andre Hinds (Bill) is on downers. He's Internet Junkie Thing 1. He doesn't smooth-over his hair and ruffled feathers, so his shy shuffle step trips-up the audience. This mad man isn't mad, he's a glad man who wants to cozy-up between the glam man and glam girl. He's crazy in love and lovable in the craziest way. Eden Teichman (Becky) is on uppers and downers, but definitely a speed demon. She's Internet Junkie Thing 2. She rips out her heart and gives you a piece of her mind, which is mind blowing, like a thousand Charleston hurricanes. Like the Tasmanian Devil cartoon busting out of the box and bursting onto the scene, this whirly girl is very cute like the others, but different, dark, daring, and dangerous. All hell lets loose when this psycho dynamo hop-scotches over the edge of this edgy cliff hanger. It's a must see play, again & again, to catch the clever caveats (Becky and Sam go off behind closed doors…hmm…). Spoleto and Piccolo have great players and What If" Productions comes to the table dealing wild cards, so…we all win and want to play more!"
May 24 - June 1 "EVITA" Latin musical about the nostalgic provocative, Eva Peron. She scratched-out of poverty to be a young starlet in Buenos Aires and then the First Lady. Gossiped by all, morned too soon, and a coup stole her body! Footlight Players Theatre.
– May 25 – June 7, Threshold Theatre's Play "1963" Directed by Pamela Galle. "1963" is about an overwhelming nation, a small community in NC, and a family dealing with the turning points in racial tensions. A teenage girl (at a high school for whites only), learns what it takes to change…more…to boldly go and find a friendship with a young African American male. (Like all great theatre, there are compelling empowering analogies that resonate forever: Can a student "teach us" the way to come together in a polarizing world…can a young actress "show us" the way? How is this possible? Why is this imperative? Buy your tickets and come find out). May 18th is a Q&A with Judy Simpson Cook, the playwright from NC who has had many award winning plays performed nation wide. May 1st-May 18th Thur – Sat at 8pm. Last two Sundays at 3pm. REVIEW: The casting is right on, because the actors love their roles. Each has sharp moments, and this drama cuts too deep to be dull. This isn't play acting, and it is more than culturally enriching. They get to educate -and- entertain the audience. (I call it edutainment. The drama moves true theatre lovers -and- converts new theatre lovers to broaden their horizons. Pamela Galle, the director, agrees, "I love it." The standing ovations love it, too. This drama stands out among thousands of racial dramas. In the lazy summer south: this privileged, young, sheltered, white, and pretty teenage girl "stereotype" means anything but that, means everything but that, and means everything to the world. "How can I make a difference," says a High School Principle!! One teenager, one person, "any person, can make a difference"…just reach out to join another person; better, the polar opposite person; and best "holding their hand" (and be their wingman, as we say it today). The takeaways: (1) Share and Invite your friends…free. (2) One ticket…$10-$20. (3) See a student teach us how to change a polarizing world (in Charleston)…priceless.
– May 25 – June 7, STELLE DI DOMANI SERIES: Mrs. John Marsh: The World Knew Her as Margaret Mitchell,  by Melita Easters. One-woman play about the "Gone With the Wind" writer staring Charleston's Saluda Camp (who now acts in NY). Theatre 220, 54 St. Philip St. REVIEW "Who knew that Margaret Mitchell, author of "Gone With The Wind," was as coquettish and tenacious as Scarlet O'Hara herself? With her masterful performance, local actress, Saluda Camp, gives life and insight into the author of one of America's most beloved epic novels. Coupled with Easter's delightfully humorous script was a backdrop of photographs & films from Mitchell's childhood in 1900 to her death in 1949. This play was entertaining as well as fascinating. This was my first Piccolo Spoleto event, and I look forward to many more" – Guest writer, Tula Holmes, Seattle Washington. (Editors note: Check back after HiArtFilms interviews Camp & Easters – they are delightful. Infact, join us filming the interview at our "Dinner and a Show!")
– PICCOLO FRINGE at Theatre 99: "The Pit" Fast-paced laugher, wrestling with married life  and a bottomless bedroom pit. Heady, musical, sing song, and striking script. Praised all over America.  May 27, June 4 at 7pm, June 1 at 5pm. 280 Meeting St (stairs behind the Bicycle Shoppe).
– June 4 – 5, "Tonight A Clown Will Travel Time" a Miniature Curiosa drama. Clowns, puppets, time machines – it's a lot of creativity. But is it visionary enough to plant the seeds for the future by going back in the past? 7 & 9pm June 4, and 5pm June 5. PURE Theatre
Join us for Dance & Music:
–  The Blues Cruises: May 24: Shrimp City Slim plays classic blues which we blues dance & shag dance to here in the Lowcountry. May 25: Shelly Waters "Swamp Pop Princess"— Louisiana Cajun. May 26: Juke Joint Johnny & The Hurricanes, The "Harmonica High Priest of the Southeast" will be a blues bopping hopping rocking juke joint on a boat. Jun 2: Steve & The Stilettos rolling blues & dancing (like the legendary Delbert McClinton). The Charleston Harbor Tours' Carolina Queen boards at 6:30pm and cruises from 7-9pm. City Marina, 17 Lockwood Dr. REVIEW:  Juke Joint Johnny backed by roaring blues musicians led by Shrimp City Slim, was the only rail road floating on a boat -and- cruising on the Charleston Harbor. The choo choo rolled over the crowd –  leaving us flat-out dazed in the sunset. Yet we were tapping our toes, kicking up our heels, grooving, blues dancing, and shag dancing. The best old timey blues harp jig in Charleston & the world. Still alive & kicking after the festival – Contact us for CDs & their next gigs.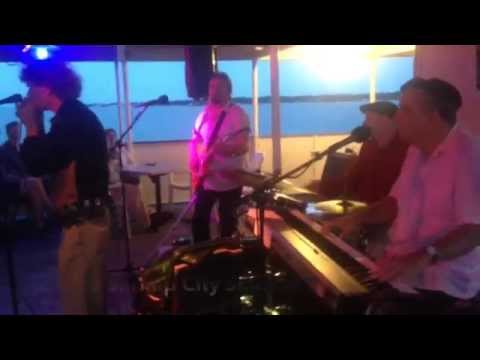 –  EARLY MUSIC SERIES: THE GRAND TOUR, May 27. The classical Chatham Baroque ayres & sonatas by Vivaldi, Telemann, Corelli. Erika Cutler plays the Baroque Violin. The Huguenot Church is a wondrous beautiful venue for a sterling Piccolo performance, 136 Church St. REVIEW: "Chatham Baroque, Pittsburgh's treasured ensemble, ensconced by the Muses, enchanted yet another enraptured audience. Climaxing with a consummate, even crashing close, was the Siren-like encapsulation of strumming in sync, by Gaspar Sanz's "Espanoleta & Canarios." The audience even swayed, ever so slightly, to the engaging rhythm, like gently bobbing daisies in a field before a minuscule breeze. The ascending crescendo of choice pieces culminated in the sprightly "Scotch Humour" by Nicola Matteis; the striking sonata by Vivaldi, Opus 1, no. 8; as well as several other charming baroque numbers." – Guest Writer, Dr. George Gatgounis, Esq.
–  JAZZ CRUISES: Duke's Men, with special guest, San Francisco trumpeter Jon Thornton-(120min) present a musical history of jazz, from New Orleans, to Kansas City to Chicago to New York and endiing with the cool school in LA. A cruise you won't forget. With brand new commentary from pianist and author, Franklin Ashley. Joining Franklin will be Don Nordquist on clarinet and tenor sax, Brian Reed on bass, Rich Robinson on drums, with sparkling vocals from Becca Hodges and Whitney Hanna…in the spirit of Dinah Washington, Ella Fitzgerald, Ella James and Billie Holiday….Don't miss this unique program! Spirit of Lowcountry. Mau 27: boards 7:30pm; cruise from 8-10pmountain Walk Dock (at Aquarium @ Concord St & Charlestte St.)
– May 29 – June 1, "The Charleston Dance & Jazz Show" from the Roaring 20s. Performers from Broadway & Charleston kick-up their heels. Jon us at this Piccolo Pop-Up Speakeasy, Marion's of Charleston, 159 East Bay St
– May 30 – June 1, Piccolo's 7th Annual JAC Jazz Series with JAC (Jazz Artists of Charleston), CJO (19 piece Charleston Jazz Orchestra), and also CJO's 10 piece Chamber Ensemble – all at The Charleston Music Hall.
..
Tags: "Renaissance Man", "Renaissance Woman", Arts, Broaden Horizons, Charleston, Dance, Enrich, Grow Green Jobs, Re-Invest, The World, Tikkun Olam