Apr 12 – 17 Week Updates
11 Apr
…Apr 12 -17 Week Updates – check back here for more…
– 2 Winners Josh & Felix! (WIN 2 Chances – 2 pairs of Free Tickets! Apr 10 -16 is National Volunteer Week! How did you do: hard, fun, educational, etc?  First 20 people who (1) leave a comment;  (2) Like our Facebook; (3) RT our Twitter Tweet;   (4) Follow our Twitter; (5)  Donate/Sponsor - Make an IMPACT NOW! For each (1-5) entry, you increase your chances 1-5 times to win Tickets to 2 shows below.
– WIN 1 pair of Free Tickets (see above) – Apr 15, 16, or 17  Sprouts Musical Comedy Theater for all ages, "PINOCCHIO" –> details,  Review & Trailer"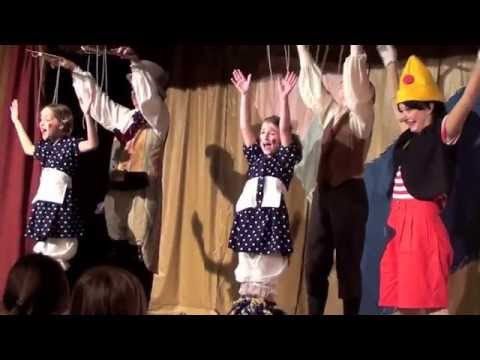 ———————————
– Â Apr 15, 16, 17 Â East Coast Canoe & Kayak Festival. Charleston is a world class destination for vast diverse year-round kayaking.
– Â Apr 14-17 Â Charleston Race Week – Sailboat Extravaganza!
——————————–
–  Apr 13, 5:30-7:30pm  Film, Media, and Visual Arts  2011 Graduate Exhibit & Info Night, Trident Tech Main Campus, Building 920 College Center. (843) 574-6852
– Â Apr 13, 6-10pm Re-Nude: Celebrate the Body, at Eye Level Art, 103 Spring. Benefit for local PlannedParenthood.org . Nude Art for sale – all mediums – local artists. Also music by The Garage Cuban Band.
– Apr 15 ~ start at sunset ~8pm. Movies in Marion Square – bring blankets & watch under the stars: "How to Train Your Dragon" (PG). Drinks & Food sold – some very healthy. Each Friday is a Non-Profit FUNDraiser Raffle for $1.  Friday is Earth Force, empowers kids to help solve local environmental challenges. Charleston City Paper has all the details & Sponsors. Also, Holy City Bike Co-op takes donations, used bikes, tools…
–  Apr 16 – Charleston Farmers Market - Marion Square, 8am-2pm.  FUN, GO, something for everyone.
– Apr 16 – TWO  GALAS at the GAILLARD –  G1  &  G2  –  GoGo  &  GroGro:
– G1 – WIN 1 pair of Free Tickets (see above) –  Apr 16, 7pm,  Gaillard Auditorium, "Les Dangers de L'Amour: A Modern Day Caberet." Contact Jenny for other classes (teen & adults), too at downtown studio: DanceFX 843.637.4722
-G2 – Apr 16, 6-10pm PartyForTheParks.com – Amusement on the Avenue. Over 21 crowd at Gaillard Exhibit Hall to celebrate and FUNdraise for ParkAngels.
–  Apr 17, 10am - Sunday Brunch & Lecture "Opening Our Tents" with Rabbis Stephanie Alexander (KKBE) and Judy Schindler. Jewish outreach, changes, inclusivity, etc. College of Charleston, Stern Student Center ballroom 843-953-3894.
– Apr 17, 12noon Jazz Artists of Charleston (JAC) and Charleston Jazz Orchestra behind the scenes documentary on Charleston Jazz past glory & current resurgence. On SC ETV (Apr17 rebroadcast from Apr14…it's great!)
Tags: "Renaissance Woman", Arts, Broaden Horizons, Charleston, Fashion For A Cause, Films - Video, Kayak, The World, Walk - Bike