ARTicles – Apr 2013
12 Apr
– Apr 5 – 27  "The Liar"  Check times/tickets at The Woolfe Street Playhouse  REVIEW: "The Liar" – We like your spiel!  You know Charleston's called the Paris of the United States. Répéter (repeat) and répéter (rehearse). Lucky for us, practice makes perfect at our new neighborhood cabaret at The Woolfe St Playhouse off King St. "The Liar" takes us to 17th century Paris without having to take a time machine – no lie – they come to Charleston. The chateau is majestic, the costumes are chichi, and the hair styles are wiggy (credit all the crew). Now then, we got the liar, and there's also the joker, the posers, the prude, the wench, Fifi, and oh brother where art thou. The dastardly duels start with seeeex, lies, & video tape, strike that, just lies, lots of lies; then kfetching; then the famous bend & snap snap snap; saber rattling; sword fighting; and you'll have to go find out the rest. Of course, there's plenty of damsels with nice tieee eyes. Also, there's gallantry, chivalry, poetry, jocularity, and a nod to the hood and outer space. Wise of you to read this far – the best parts are the actors' witty repertoire (iambic pentameter), prancing, & bromancing: "what verbal diarrhea, oh I got an idea…want a squeeze? Wouldn't mind one, where do I find one…Isabelle, visible, miserable…my feelings are profounder, I'd rather wed a flounder…une zo on…like my spiel?" Lordy, there's even yiddish. The best is the big faaa the big liar (read his bio), shirley you jest, no not Shirley (Robbie Thomas). The jester (Young Stowe) is a spunky bundle of joy. Be on the lookout for Matthias Burrell, he takes a walk on the wild side. Cristy Landis directs all the gaiety and the rest of the actors share in the love, too (Laurens Wilson, Charley Boyd, McKenna Dubose, Haydn Haring, and Kurt Sauer). Also, read Cristy's playbill notes on the writer, David Ives, and the adaptation from the comedy by Pierre Corneille.
 – April is Jazz Appreciation Month
– Apr 13, Roots of Jazz – Celebrating Jazz Legends, Past & Present: Honor Visionary Rev Daniel Jenkins, Founder of Jenkins Orphanage & inventor of Jazz & first to Do The Charleston; See Charlton Singleton play trumpet; as well as meet current (last 10 yrs to today, Apr2013) Board Members Glen/12yrs & Chairman Hank Tisdale/13ys; and 7yr Exec Dir. Joanna Martin Carrington. Stay tuned for our music videos & documentary/interviews (we need your support, like, share, donate)
–  Apr 19-21, 2013  East Coast Canoe & Kayak Festival. The highlight of Charleston's world class diverse year-round kayaking. Get wet, dry-off, and then go see The Reel Paddling Film Festival international tour: hairy whitewater & sea kayaking, canoeing, SUP, & fishing; and inspiring lifestyles, environmental documentaries, and the hilarious side of paddling.
 – Apr 18-21  Charleston Race Week – the largest sailboat racing event in America.
– Apr 20, Charleston Earth Day Festival
– Apr 22, Happy Earth Day 2013 – 1 Billion People around the world come together to make an impact now and further the action started by the first Earth Day in 1970 (when 20 million Americans began modern environmentalism).
- April 24 – 28, 2013  Charleston International Film Festival – Click for REVIEW:  "Score! Around the world in 5 days at CIFF!" …films were more than intriguing…Chris Brigham is in the Holy City. He worked on "Argo"(Academy Award Winner); and Shutter Island (with actors Leonardo DiCaprio and Ruby Jerins :)…more than just Film (back from the underworld, we joined with Charlie Chaplin to Do The Charleston…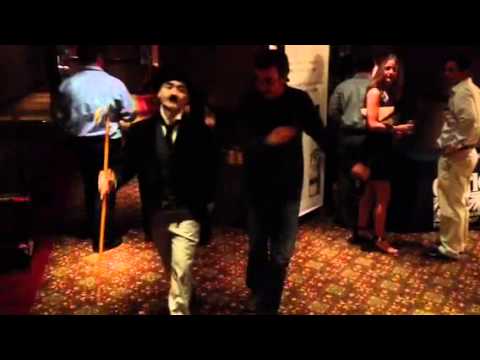 – Apr 27,  SC Aquarium's 6th Environmental Stewardship Awards. This year's Award goes to billionaire philanthropist & activist, Ted Turner, "A healthy planet is the most important gift we can give to our children and grandchildren." The $300/person fundraiser will have awards, cocktails, dinner, & performances in the "edutaining" SC Aquarium, downtown Charleston. 6pm – 11pm. Tickets & sponsorships, call Tanya 843-579-8540.
– Apr 25, 26, 27 Holy City Shakespeare's "Hamlet" – traditional, yet adapted and contemporary. Gage Hall at 4 Archdale. REVIEW "Hamlet, can't stop talking about Hamlet:" Craig Trow was more than the leading role and Prince of Denmark, he owned the Theater. He commanded everyone's attention. He lit-up the stage without needing a spotlight. He was even brilliant while dark & brooding. He was on fire and his flames engulfed his fellow actors and fired them up. Then their spitfire witty lines shot out and Hamlet shot back twice as fast. The best part is the audience gets to go toe to toe with Hamlet. But don't tip toe over – run down to see Hamlet's last shows.
– Apr 27 Jail Break at The Old City Jail – The coolest creative venue that's also historical, creepy, and…well, solid (thanks to The American College of the Building Arts). Party, eat, shop for jewelry & art, and get down with dance performers & bands. 21 Magazine St from 4-11pm.
– Apr 27, at 7pm,  Preservation Society of Charleston 3rd Annual Gala to benefit their SEVEN TO SAVE FUND (raise awareness & financial support for preservation in Charleston & the region). Expect the same as last year's Gala (we "attracted" some newbies and converted them into "passionate" preservation enthusiasts):
Tags: Arts, Broaden Horizons, Charleston, The World