ARTicles – Dec 2013
5 Dec
– Dec 31 New REVIEW: "Greatness!" That's what I call, last but not least. Dec 31 is the last day to do something, better, to give back in 2013. Easy: join us, we spark hearts; simply click a mouse; Like and Share it; light and fuel it; and let's set Charleston and the world on fire today, throughout 2014, and on and on. "Greatness," is the last word, the crescendo, the take away, the "if you remember only one thing remember this: Greatness!" It's inspiring and rings true today, tomorrow, and on and on. Greatness was the last word emblazoned from the inspirational Philanthropy Week Nov 2013. It was joyously announced by Leonard Lauder, Estée Lauder haute couture Tycoon (thanks to his wife, married 52 years, who fled the Holocaust). That's what I call, fashion for a cause, for Greatness! He is a steadfast Mogul, better, a proven visionary, collaborator, inspirer, motivator, fundraiser, philanthropist, art preserver, BOD (The Whitney Museum of America), spearhead, and more – that's what I call a mensch, better, Greatness! Such Great fortune (thanks to Lasley Stever) to get a ticket to the standing-room only nonprofit Gibbes Museum Distinguished Lecture Series, to hear his formula, his wisdom, and to rub elbows with him and others that will lead to Greatness (that's what I call a photo-op, thanks to Gibbes Executive Director, Angela Mack). He says he's not an art collector, he doesn't enjoy owning art for just him. He coins the term, "art preserver," to pass the baton to nonprofit museums to preserve, for all of us to enjoy. Better, he shares his formula, so we all will be a part of the formula, the process, and the result. We all can be a mensch, better, Greatness! He inspires us all to "share the wealth with others." From a $250 nonprofit donation, to corporate sponsorships, to his $1billon+ gifts of Picasso and Braque paintings to other nonprofit museums like The Metropolitan Museum of Art in NewYork, MoMA, and the world. Better, this goes on and on. Everyone is inspired to do their part and relish in taking ownership, so we all share in the wealth, the art preservation, Greatness! Past visionaries proved to preserve the past for us to enjoy. Now it's your turn to toast the New Year and joyously give back and preserve what you love for our kids' kids to enjoy, and on and on. That's what I call, parties for a purpose, for Greatness!  Better, for our kids to see our example, to party for a purpose (since they aren't 21, that's what I call Edutainment, Greatness! Our kids will thrive through edutainment and show their kids to preserve, and on  and on). His lecture showed how Greatness has already been proven and how you will follow his formula for Charleston, for Greatness! Voilà ! You will bring and preserve Great Art, and you will put the Gibbes Museum on the world map. Now that's what I call preservation, Greatness! But his formula works for donors and corporate sponsors to spark and preserve all your arts, nonprofits, and edutainment. Join DoTheCharleston.com with your spark and fuel and HiArtFilms will light-up your fire and spread it to Charleston and the World. Charleston is "Conde Nast Travelers" Readers' pick for Best City In The World. In what way? In every way. Now it's your turn to put Charleston on the world map in your way, in every way, for us, for Dec 31, 2013, for 2014, and on and on for our kids' kids, for Greatness!
New Year's Eve, L'Chaim, To Life! Where to go, where to go. At least you don't have to fly out of town, all the jet setters are coming here to celebrate with you.  If you've ever been to Republic Garden & Lounge on King St, well…enough said. If you haven't been, oye, don't miss New Years! Hurry, it will sell out. L'Chaim, To Life!
– Dec 13 – Jan 18, "Penelope" at Pure Theatre on King St <- Tickets. A Greek comedy and tragedy about lovely Penelope awaiting her husband, Odysseus (away fighting the last 20 years in the Trojan wars). Beneath her window, she is wooed by 4 men, sans clothes (except speedos)…in a swimming pool, sans water. Let the funny zaniness unfold, Pure Theatre is sure to deliver. (Last spring, Pure produced a striking, moving play, "Clybourne Park." It had a remarkable ensemble executing diverse double-take roles. They switched the railroad tracks, confused which side to stay on, laid more than a few souls right on the tracks, and then the train came! If you missed it (double darn), then do not miss Pure Theatre's Season 11.
Dec 19, The 90th Anniversary of The Charleston: come celebrate at Prohibition Restaurant, Bar, Dance, Bandstand, Patio, and Speakeasy (tell them DoTheCharleston.com sent you - No Cover - RSVP (843) 793-2964). Hello, you're in Charleston, you can't miss this! Burlesque flappers DoTheCharleston, drink specials, and The River City Dixieland Band starts at 8:30pm at Prohibition, 547 King St.
– Dec 5-21 "Five Lesbians Eating A Quiche," by What If Productions. The consistency of their plays are consistently fresh, and consistently inconsistent – that's great to see the envelope pushed in Charleston. That's the same with Threshold Theater, downtown Society St off King St. Tickets $15-20. REVIEW: "5 Lesbians Eat Quiche Had The Whole Experience"  "Walking into the theatre you could tell the director, Kyle Barnette, had the whole experience for the audience planned out. We were festively greeted very nicely outside the door and given name tags and new identities for our short time during the play. Things got better once we walked into the blackbox and were awed by the set design. There were red and green lights, wreaths, a christmas tree, presents, and holly. The only Christmas decoration I could not find was any mistletoe.. which after the play started, we realized wasn't even needed for the characters to have a bit of fun! Once the characters were introduced, the whole theatre recognized how extremely talented this cast was. The singing was beautiful. The personalities of every character were thought through and exciting. The actors kept us entertained throughout the whole show. The experience of it all was one of the best yet witnessed in Charleston. It had amazing stage blocking, dialect, technical lights and sounds, and above all, a whole lot of humor. The show included great audience participation which made everyone feel included. I left the theatre with a great sense of having well spent my Friday evening out."  – Written by anonymous for DoTheCharleston.com (copyright 2013)
– Dec 5, GALA benefit for Be A Mentor <– Tickets. The 1st Anniversary Going Places Gala celebrates the best mentors that make a positive impact on our local students. Over 1000 mentors since 2001 makes this the leading mentor nonprofit in Charleston.  Starts at 7pm at The Aquarium downtown. Join the Facebook Event. Open Bar, Heavy Hors d'oeuvre, silent auction. Remember their benefit at The Alley's Disco Party? Oh what fun.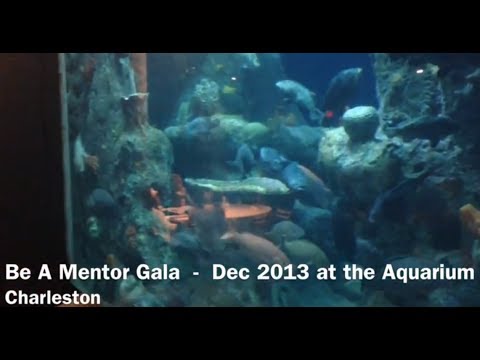 Tags: "Renaissance Man", "Renaissance Woman", Broaden Horizons, Charleston, Don't Wait on Anyone, Enrich, Fashion For A Cause, Grow Green Jobs, Re-Invest, Social Entrepreneur, Sustain, The World, Tikkun Olam