ARTicles – Mar 2013
2 Mar
– Feb 22 – Mar 16  "The Whipping Man" Check theater times/dates/tickets at The Woolfe Street Playhouse  REVIEW: "The Whipping Man" Shines The Light:  Everyone knows, you gots to have a good story. Writer Matthew Lopez gots a good one. This is a southern Jewish story, at the end of The Civil War. Deep drama, agonizing angst, longing & love, and more, oye vey, is there more. Lo, it isn't the Ten Commandments, but there are three commanding actors (four, if you count The Almighty, who definitely has a role in all this, but probably doesn't rehearse). Three good Jewish boys… well… two are former slaves… did I mention this gots a great story. They read a Hebrew Haggadah, break matzoh, break down, lift up, sing praises, pass down traditions, and slip-in comic relief ("Baruch Hashem for this stolen food & wine & brick, not too kosher"). They wrestle with The Almighty, ask questions, and cry-out for answers. Cue The Almighty… pause… crickets chirping… perfect timing, of course. That's why Producers are expected to perform miracles… they delivered more than The Light… they reconstructed and deconstructed a grand gadol antebellum set. What a play – you see it, you feel it, you stand up and applaud it, and you gots to smooze and tell everyone about it. You wake at 7am, haunted by the gripping cries to hold on, the cutting cries to let go, to be saved, to be freed, to be family. I couldn't get back to sleep, I couldn't wait to write about it. Michael Burgess (Simon) and Andre Hinds (John) pounded out powerful performances. Young Stowe (Caleb) hung in an incredible trance. Keely Enright directed a firestorm of fury and parted a sea of subtleties. (It made me think of "East of Eden." Oooh, love to see Enright produce that at Woolfe Street, and see Stowe tackle a James Dean role). Gots to do more smoozing, fundraising, and finish this Sedar first ("and if there's money left over, buy a chair"). Reserve "Whipping Man" tickets early, G-d willing, there's 2 more weeks in Charleston. Then, next year in Jerusalem, Amen.
–  Feb 28 – Mar 3, 2013  Charleston Wine + Food Festival —>  Exec Dir, Angel Postel: "So excited to have GrowFood Carolina as our 2013 Culinary Community Non-Profit Partner.
–  Mar  7-10   The 4th Annual Charleston Film Festival
– Mar 10, only $1, Burke High School, 10am – 4pm, 25th Annual KIDS FAIR!  It's not just for Families (but anyone who wants to engage with the most Charleston Trendsetters all in one location…"Renaissance Women" like, Exec Dir extraordinaire, Carol Berlin; Jewish Federation Exec Dir, Judi Corsaro; Exec Dir Fields To Families, Nikki Seibert; etc, etc…).  10,000 – 12,000 kids/parents <– largest 1 day event in downtown Charleston <– Walk or Bike (or carpool, ok). 100 Non-Profits, Visionary Sponsors, and interactive "Edutaining" booths inside/outside…engage & empower & enrich…broaden horizons… Great food (extra but a lot of tasty healthy food <  $5, like frozen yogurt – yum!). If you would like to attend, sponsor, volunteer, Promote, KidsFair, (Donations for KidsFair are tax deductible and goto scholarships <– any kid that applies can get some help).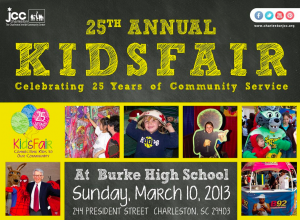 – Mar 11 Â Audition Invitations: Multi-Talented Musicians/Dancers
–  Mar 19 – 23   Charleston  FASHION  WEEK <- click, full page/post/links.

Tags: "Renaissance Woman", Arts, Broaden Horizons, Charleston, Fashion For A Cause, Films - Video, Grow Green Jobs, Health, Re-Invest, Sustain, The World