Reviews – Film – ReceiveR Fest – UPDATE + VIDEO
12 Mar
UPDATE – Sat 3/12   DoTheCharleston.com Reviews – Theater:  ReceiveR Fest at Redux, "Land of Infinity" by Ian Mozdzen:
"In a word – indescribable. No video, no way, no how, no way…Ok…yes way. Way out – way way out. A few more words: Â Tonight's trip was both out of this world and inside one man's world. Inside one man, inside every hole of one man, and then back out – right back at yah! Look out, he's got starry eyes, 4-eyes, the evil eye, the red eye, and the one-eyed snake. This one man show was not isolated on one man, not even his afflicted multi-personalities. His essence hurled over the entire venue (inside and outside Redux Contemporary Art's performance hall), and every person within ear shot and nose shot was a part of the performance. This was one of those rare performances where the audience starts looking at each other, again, and again – you know who you are. All the senses were bombarded and bombarded – he ripped apart every thing, every heart, every stomach, every preconception, and every post conception. If an actor ever wanted a part, Ian wanted this – AND- he had his way, and what a character. Bravo to organizers Liz and Jarod for pulling this off – shhshh, under the radar – how in the world can they or anyone top this or delve deeper into that genre?
– UPDATE 3/12 – See New Hi Art Films RAW video of "Stumped."
–  Mar 10 -13,   ReceiveR Fest –  Engaging Time Based Media Film Festival. Avant-garde like "Off, Off, Broadway," but so Far-Off,  it's Far-Out, it's Charleston.
(1)  You know you'll broaden horizons when event planners lead you to the hidden OLD CITY JAIL(<–click here, then scroll down).  Dark, eerie, mysterious, and moldy (actually fresh/breezy), me thinks the organizers (happy friends, Liz & Jarod) crafted "the way" for us to wonder & wander around looking for…it…around here, up there.  Ooooh, cooool…oh yeah, this is it. Welcome (kind of like Shangri-La, The Lost Horizon) into the light of the silver screens of different films…so neat:
All the "projections" were interactive and …"off." No seating, so walk around and create your own bizarre viewpoint, and…wait for it…to unfold <– "Stumped" by Travis Graves, like Rubik's Cube, takes finding a different vantage point to discover your own "Edutainment." His grass-roots movement doesn't project up to a silver screen, his is grounded, set in stone, a concrete cornerstone. Travis empowers and MOVEs the audience!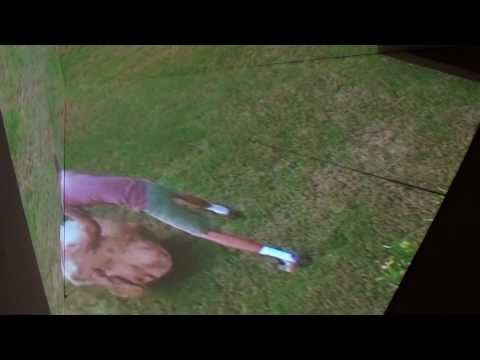 I also loved the textured feel of the wet and feathery ducks with thick colorful paint. In "Decoy," Dawn Nye & Katrazyna Randall beautifully balance amidst a public projection some privately focused headphones for a musical sanctuary woven with soft supple poetry. Again, the extra fun is…waiting for it…peering around the side at the viewer with the headphones, salivating at the source of their expressions, and just coveting those damn headphones, gimme.
(2)  So, Do The Charleston 2-step, and step through a totally different time warp at The Rivers Museum at College of Charleston (Curator, Rick Zender, is a REAL walking encyclopedia, and the museum artifacts are REAL, too). What an intriguing venue to see (better than just the posters at the movie theaters in the suburbs).
Friday night "Films?!? here were…were…well…(this is why writers of reviews are so well respected, ahem, so well paid, ahem, so well liked, ahem, by our mothers). Friday night was…hmm…sharp, like the cutting edge has to be. Into the abyss, these trailblazers chopped through the fury of the wild wild unknown. This was not the pot of gold at the end, this was the exciting journey, full of raw adventures, and raw flesh. The ticket price for this trippy trip was not measured in mere paper bills. The leading edge cut both ways, and while scarred for life, I can't wait to see what other filmmakers tomorrow will bring. (Like the old story: two lost souls wandering alone in the desert meet up, "Don't go where I came from. And don't go where I came from either. Ok,  let's try somewhere neither of us have been, but let's go for it, together.") Don't look, don't whisper, but I did hear, "…(deleted, I'm learning)…." But I'm thinking…"no guts, no glory." I'm humming, "up through the ashes grow the roses of success." I'm seeing/hearing, "ever sharpening tools, passion, and purpose" in geeky artsy techys. I'm feeling…"Indie Filmmakers have courage that others can not know, until they try…"
(3) And…Do The Charleston 3-step, and step into our world of modern art outside the Halsey at College of Charleston(<–click here, then scroll down for more Links). Wait for it…Sat night…see you there.
Tags: "Renaissance Man", "Renaissance Woman", Arts, Broaden Horizons, Charleston, Don't Wait on Anyone, Enrich, Grow Green Jobs, Re-Invest, Social Entrepreneur, Sustain, The World